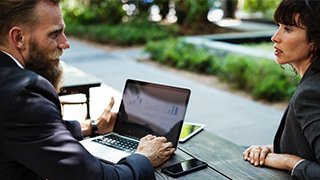 If you've realised the benefits of having an account, whether you are self-employed, run a business or are employed by someone else, you now have a choice to make. You will need to find an accountant that suits your circumstances, and there are many to choose from in Adelaide alone. So, how do you choose? We have compiled our four top tips for finding an account that's the right fit for you. Once you've done your research and developed a list of possible accounts, here are the next steps to making sure they're your best option.
1. Ask the right questions 
When trying to find the right accountant for you, research and effort is involved. The perfect account is unlikely to fall into your lap – you may need to do a bit of digging to find the best accountant for you. The first thing to consider is their qualifications. They must have the appropriate tertiary qualifications, and they must be registered and associated with a professional body.
Registered Accountants – If you want your accountant to do a complete tax return, they must be registered. To find out if the potential accountant you've chosen is registered, you can check the tax and BAS agent register. If you are seeking investment advice, your future accountant must have an Australian Financial Services Licence (AFSL) or be an authorised representative of an AFSL holder. To find out this information, you can check the financial advisers register.
---
2. Are they responsive?
The key to a positive long-term relationship with an accountant is good communication and responsivity to your requests. It may be hard to gauge an accountant's responsiveness with just a few interactions when you are evaluating your options, so here are some things to look out for. 
If you have called or emailed to make an inquiry, the accountant should respond to you promptly. If they can't respond to a potential client quickly, it is a warning sign that they may not respond to you as a client in the desired timeframe. However, you should allow a little bit of leeway when considering their response time during the end of the financial year, as that is an accountants busiest time.
It's not only important for your accountant to respond to you promptly – their administration team should be equally responsive and helpful. A good way to judge this is by seeing how much access you have to your accountant. When you call the accountant's offices, note if there is a polite administration person who is familiar with your information and is able to solve a basic problem. If you encounter no issues at all at this point, then you can be more confident in your accountant's responsiveness and customer service
---
3. Do they speak your language?
If you are not an accountant or financial advisor by trade, then the accountant should not be speaking to you as if you are one. This is the equivalent of a doctor using complex medical jargon instead of layman's terms when explaining what's wrong with you. It makes communication difficult, resulting in an unprofessional and unhelpful exchange that can slow the progress of your accountancy activities. Here's how you determine whether they speak your language…
Once you have booked an initial consultation with a potential account, if they begin to use financial words you don't understand, politely stop them and let them know. Some people know more about finance than others, so they might initially assume you have a greater level of familiarity with financial language. However, after you've told them you don't understand, two things should happen.
Firstly, they should explain in layman's terms what they mean. They should do this in a way that doesn't make you feel silly for asking.
Secondly, they should follow any additional financial jargon with a polite explanation of the new terms.
If neither of those things happens after your initial clarification question, then they are unlikely to be a good fit for you going forward. A good accountant can take their expert knowledge and condense it into ordinary language in a clear and concise manner. You need to feel completely comfortable with your accountant and fully understand what they are saying.
---
4. Are they honest with their fee schedule?
When you meet to have an initial consultation, the accountant should be up front about the cost of their service. This is important in accounting because fees are not (in the majority cases) an upfront, one-off payment. Instead, management of your account will involve ongoing work from the accountant. Therefore, if the accountant is not clear and upfront about their fees, you could be liable a pay an unexpected significant bill further down the track. To avoid a nasty surprise, ask questions if you don't understand their fee structure and make sure they openly discuss it with you.
A clear understanding of the accountant's fee schedule allows you to budget for their services, know whether their services are competitive, and know where you stand before they commit to starting your work. A good account will supply you with an engagement of service letter that outlines the fees you pay, and you should receive this before they start work.
If you are looking for an accountant, or are thinking about changing accountants, please don't hesitate to give us a call on 1300 622 200. With over 30 years of providing personalised services to a diverse range of clients, MC Chartered Accountants could be the right accountant for you, and we look forward to discussing your business needs.