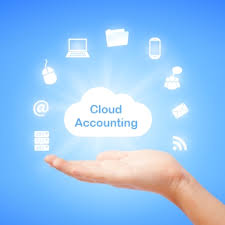 If you're a business owner, you've probably already been searching for solutions to manage and improve your accounting processes. You might have even stumbled on information about cloud accounting software—but if you don't already know what it is, or you're afraid to take the leap, you'll be surprised to learn how valuable it could be to your business.
While the idea of trusting an application that you can't see with your most private and important financial information is at least a little disconcerting, cloud accounting solutions are generally well worth the expense. They can improve your business's productivity by helping you to work faster and smarter, save you money in maintenance and administration costs, and secure your business's confidential information better than any of your traditional methods.
What is cloud accounting?
If you've heard or uttered the expression 'Nobody understands the cloud', you're not alone.
While it sounds incomprehensible to some, cloud-based computing is simply storing your files and information in a non-physical place—online. Before you write that concept off, consider that it's been around for a fair while now, and you might already using it: your webmail services and your internet banking applications store your data online, and allow you to access and change it from multiple devices—whether that's your PC's web browser or your mobile. Logically, then, if you can trust the cloud to take care of your banking and communication, you can trust it with your accounting.
Cloud accounting is on the rise, as business owners change and adapt to new technology in order to streamline their operations—and there's enough evidence to justify it.
---
The drawbacks of traditional accounting software
While you're probably well accustomed to storing your business's financial information on your computer's hard drive, and transferring it with removable devices like USB sticks, there are good reasons to brave the new frontier of cloud accounting.
The most obvious drawback of traditional accounting systems is the issue of manually transferring information between your computers. It's inconvenient when you leave information at home or work when you need it, and USB sticks can easily be forgotten and lost, which means there's a security risk every time you do it. It's also time-consuming, expensive and difficult to update and back up traditional accounting software, particularly if you haven't done it in a long time and there's years of data there. And if you're still using traditional programs, you probably already know that any time you want to share your information with your business partners, you have to retrieve it yourself and give it to them, because they don't have user access.
Cloud accounting can overcome all these problems. It's also easy to use, inexpensive, and secure—which is why more businesses are switching to it every day.
---
Easy access in the cloud
Cloud accounting gives you real-time, live access to your financial information wherever you are, as long as you're online. This means that you can view and update your information from your office, your home, or remotely when you're out—which means no more delays or inconvenient after-hours trips to work when you realise you've forgotten to document something important, and no more worrying about what's going on when you're not there.
Even in times of internet outage, most cloud accounting applications will allow you to continue working, and the data will simply sync across your devices when connectivity resumes—so there's never any need for manual transfers of information.
---
Reducing errors with the cloud
If you've been manually backing up or copying your accounting work, you might have multiple files on your desktop—and if you start accidentally entering data into the wrong version, you're in for a world of pain.
Cloud accounting software eliminates the risk of these types of errors, because you only have one data file, and the application itself will back up your work. Many platforms also have built-in automated error detection, which identifies things like duplicate entries, and problems where purchases don't correspond with invoices—which offers a significant safeguard against human error.
---
Extra security in the cloud
Many business owners will be concerned with the possibility that cloud service providers, or intruders, will have access to their sensitive information. While that may be a valid concern—no online software application is immune to hacking and security threats—it's important to note that most cloud accounting service providers are heavily invested in protecting their users from privacy breaches. Most have a security infrastructure similar to those used in banking institutions, with their servers heavily guarded by firewalls, encryption, and sophisticated intrusion protection systems.
That's a lot more security than you currently have, with all your data stored on a computer or removable hard drive that can be broken or stolen.
---
Reduced maintenance with the cloud
Besides the fact the cloud accounting software automatically backs itself up—and eliminates arduous manual saves and error risks—it also updates its own software.
This is good news for most business owners. If you're still using the same software package you bought a decade ago, your data isn't secure at all, and you're going to run into problems running the system—especially if you're updating the operating system on your computer. And if you're one of the few diligently updating your software, you already know how long it takes and how frustrating it can be. With cloud accounting, it's no longer your job: the most you're ever going to have to do is give your blessing for the app on your mobile device to install the latest update.
---
Smarter sharing in the cloud
If you're running a business, there's probably many people who need to access your accounting information—business partners, bookkeepers, bank managers, and personal accountants—and up until now, you'll have been sharing it manually over email or removable storage devices.
With cloud accounting, you can allow multiple users to access the system, increasing the security of the information and reducing the potential for error. Some platforms will even allow you to restrict them to different levels of access, so you can determine who's allowed in, and what they can see.
At MC Chartered Accountants, our staff work with all cloud accounting software, and we're particularly familiar with those from well-known software applications including Xero, MYOB and SAP. We can accommodate your business's existing systems, or assist you in upgrading them, so contact us to find out how we can integrate our professional expertise with your preferred cloud accounting platform.