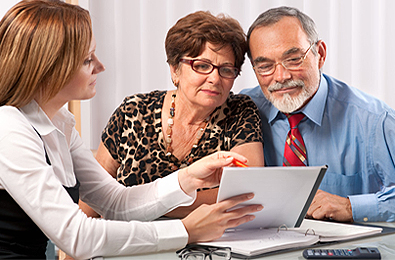 Good customer service is similar across all industries: it involves following the simple principle of focusing on your customer's needs throughout the process of doing your job. But you have a different relationship with your accountant than with most other service providers in your life: it involves a lot of communication, and trusting someone you only know in a professional capacity with your most private information.
Because they are privy to a good deal of your personal life, it's important to know whether your accountant practises good customer service with their entire client base. And it's easy to find your answer, if you look for just a few simple signs.
1. They practise clear communication
The first good test of an accountant's customer service is how much access you have to your personal service provider. If your queries are attended to promptly by someone who's familiar with your information, and is qualified to solve your problems, it's a good sign that you can expect good service throughout your relationship.  
When you contact your accountant, you should come away with the information youneed without having to chase it. Good customer service in accounting involves both clear communication, and your accountant making the effort to understand your business and your personal circumstances.
This will help you to understand what needs to be done and where they're up to, as well as ensure that your accountant is available to help you when you need them.
2. They remember you personally
There's no better indication of poor customer service than being served with a barrage of generic questions that your service provider should already have the answers to.
If you've been to an accountant before, it's reasonable to expect that the next time you deal with them, you won't be starting from scratch. If your accountant has recruited new or junior staff, it pays to be patient while they take in all your information—but all good customer service providers should be quick to develop a good idea of how to serve their clients.
You'll know pretty quickly 
whether your accountant remembers your case—or has at least reviewed your background information prior to your meetings—and it'll tell you a lot about how they see you.
3. They're honest with their fee schedule
Good customer service providers are upfront, and they let you know where you stand before they start your work. This is particularly important in accounting, because if your case involves ongoing work, you could be liable for a large expense. While you can claim most accounting services as a tax deduction, it's still important to have a clear idea of how much their services cost, so you know how to budget for them—and whether they're competitive.  
An accountant who delivers good customer service will supply you with an engagement letter outlining the fees you'll pay before they start work. This means you should have no nasty surprises down the track, and you can budget for the service. They should also give you notice in advance if their fees are increasing, so you have time to choose another accountant before your tax is due and aren't cornered with an unexpected rate rise.
A good accountant will also go the extra mile and answer simple questions without charging you—as long as your request is reasonable and within their scope of work.
4. They take interest in your business success
Y
our accountant should be interested in more than MYOB bookkeeping and completing tax returns for your business.
Good customer service in accounting involves understanding the client's unique business operations and what they need to improve them—and being invested in their financial outcomes. If your business is successful, it benefits your accountant too, and they should see your financial gains as a win for their own business.
Good accounting customer service means always being on the lookout for the most lucrative and least risky ways to make your business work, and being able to share wisdom and advice that could get you through your financial struggles. If your accountant shows interest in or demonstrates sound knowledge and experience in your business, it's a good sign that you'll be well looked after in the years to come. 
5. They shoulder the risk
It's always a daunting feeling when it comes to signing on the dotted line and sending off your paperwork to the tax department. Sometimes, you're even blindly trusting that your accountant hasn't missed anything, and that they've done their job correctly and legally—but you're accepting the risk of penalties for supplying false information.
That's a heavy burden, and one that an accountant practising good customer service should be prepared to share. A good accountant will not only front up and take responsibility for their own mistakes—including any financial penalties involved—they'll keep you informed and take the time to ensure that you understand how theycame to their end figures so it's not so confronting when it comes time to sign.
6. They work around you
If your accountant delivers a high standard of customer service, you should expect them to be accommodating when it comes to your time. This is important not only when urgent accounting issues arise and you need extra help, but also duringroutine work when your accountant needs your attention and input.
If your accountant demonstrates flexibility and a professional attitude while they're waiting, it's a sign of good customer service. This isn't an exhaustive list, but if you feel that your business isn't being as well supported as it could be, it might be time for a new accountant.
Adelaide business owners with higher expectations of their accountant can contact MC Chartered Accountants anytime for more information on our first-class suite of services.
We'll be happy to help with all your tax and business accounting needs, and show you why we're the most trusted accounting firm in Adelaide.